Some of the concerns that bring individuals and couples to my office:
feelings of depression, stress, anger, shame
shock trauma, relational violence, and chronic pain
impact related to historical abuse
grief counselling for the death or suicide of a
loved one
marital stress and conflict
difficulty sustaining intimate relationships
concerns with various kinds of addictions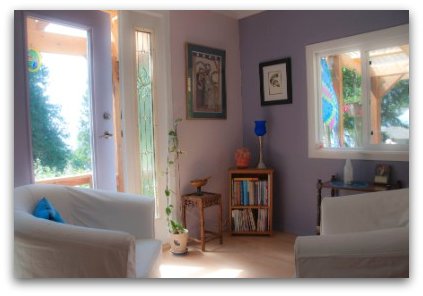 Sylvia's home office in Gibsons, BC.

All content © Sylvia Cust 2011 - 2015. All rights reserved. Photos: Jools Andrés
Counselling services that may benefit you or someone you know:
Adults
One-on-one counselling for individuals interested in exploring their challenges on a short-term or long-term basis.
Aboriginal families
You can receive full coverage for Sylvia's trauma counselling through the Vancouver First Nations Health Authority. If you or a relative are healing from the impact of the Residential schools call or email: sylviacust@gmail.com
Couples
Somatic-based counselling for couples who are interested in resolving marital conflicts and repairing relationship injuries
Teens
A safe place to express concerns, address relationship issues and sense of self, and clarification of purpose
Artists
Facilitating enhancement of creativity and self-growth for artists in various media
Groups
bereavement circles for grief, loss, and suicide